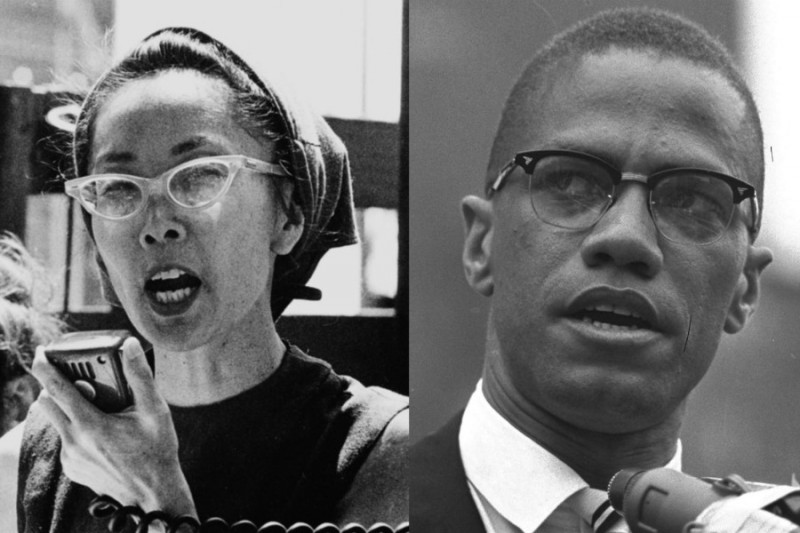 May 19th marks the birth of two impressively influential revolutionaries that are no longer with us, Malcolm X and Yuri Kochiyama. Most of us are familiar with the teachings of Malcolm X, but Yuri's activism and involvement in the civil and equal rights movements are often overlooked. Their passion for change united them and ultimately led to a meaningful friendship. Here are some quick facts about the two!
1.Yuri Kochiyama (born Mary Yuriko Nakahara) was born in 1921 in San Pedro, CA. At that time, San Pedro was known for having a large and close-knit Japanese immigrant population comprised of mostly fishermen and their families in Terminal Island.
2. Nearly twenty years later, Terminal Island's Japanese-American community was torn apart by the forced evacuation and internment during World War II. In total, roughly 120,000 people of Japanese ancestry on the pacific coast were forced to leave their homes and the lives they knew and assigned to various internment camps.
3. Yuri and her husband, Bill Kochiyama met while living in the interment camps. After being released, the two moved to Harlem, NY in 1948. They became active members in the Congress of Racial Equality and Harlem Parents Committee.
4. Yuri's experience during internment inspired her life mission of seeking justice and equality for marginalized communities. She actively fought for union jobs for people of color, reparations for Japanese-American internees, Puerto Rican Liberation, political prisoner's rights, joined Malcolm X's Pan-Africanist Organization of Afro-American Unity, worked with the Black Panther Party and much more.
5. Yuri and Malcolm met in 1963 at a protest in Brooklyn, NY. She called to Malcolm, asking to shake his hand. When he asked why, she simply said, "To congratulate you for giving direction to your people." From then on, the two formed a bond of friendship that lasted the remainder of Malcolm's life as he often wrote her letters from his travels and visited when he was in town. Yuri can be spotted in the infamous final image of Malcolm X's assassination. She once said in an interview that she remembered cradling his head and pleading, "Please Malcolm! Please, Malcolm! Stay Alive!"
6. Malcolm X, born Malcolm Little, was born in 1925 in Omaha, Nebraska. From a very young age, Malcolm experienced extreme racism and discrimination. His family's home was burned down when he was just 4 years old and his father was later murdered by white supremacists.
7. His troubled past included a prison sentence for burglary charges, but it was in prison that he was first exposed to the teachings of Elijah Muhammad and the Nation of Islam. Upon his release, Malcolm went by the last name X- stating a common belief amongst black muslims that they no longer desired to go by their ancestors' slave masters' last names.
8. Malcolm was quickly thrown into the spotlight and recognized as one of the main faces of the Nation of Islam. He was known for speaking his mind without hesitation and this often got him in trouble. His unparalleled passion for basic human rights for black people made him a target for controversy and his extreme beliefs while part of the N.O.I were portrayed by the media as dangerous and hatred toward white people in America.
9. After distancing himself from Elijah Muhammad and the N.O.I, Malcolm left departed for his pilgrimage to Mecca in April 1964. This trip proved to be life-changing for Malcolm as he recalled witnessing Muslims of all walks of life and shades of skin coming together for their religion. He could no longer stand by his previous extreme arguments of racial separation and began practicing the universal brotherhood of Islam and went by the name, Malik el-Shabazz.
10. It is a little known fact that "Malcolm" had plans of going to the U.N asking for charges to be made against the U.S for its treatment of black people.Watch the video below to hear him speak about his pilgrimage to Mecca, its influence on his life and his plans for bringing racial issues to the attention of the U.N.