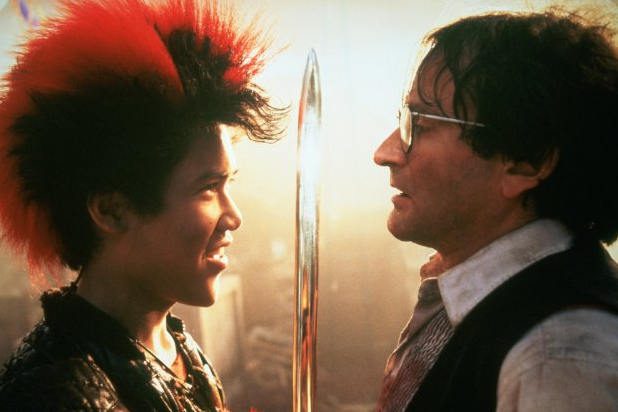 Growing up sucks, a lot. And sometimes we owe it ourselves to escape everyday 'adulting' and just chill. Relief can be found in spas, salons, amusement parks, parties, concerts and the outdoors. But there's nothing like curling up on your couch–in the quiet–and allowing your brain to ride on auto pilot as you get lost within a great film. Each cinematic body of art serves as remedy to varying moods and life changes. However if your beef is with Father Time, Steven Spielberg's cult classic: Hook, may be the cure you need.
On December 11th, 1991, Hook debuted on silver screens. Audiences flocked to fill theater seats, and once there, it became obvious that something truly special had been created.
Author J.M. Barrie's youthful yet classic story, Peter Pan, has always been one of the most acclaimed and adapted novels of all time. With such a universal concept and mythos, it's easy to understand why. However, not everyone could pull a re-telling off, not without the nudge of a child at least.
"The secret, the great key to writing Hook, came from my so," Hook writer James V. Hart revealed. "When he was six, he asked the question, 'What if Peter Pan grew up?' I had been trying to find a new way into the famous 'boy who wouldn't grow up' tale, and our son gave me the key."
And so it goes: Workaholic middle aged lawyer, Peter Banning, must travel back to Neverland to rescue his abducted children from his old nemesis, Captain Hook. Once there, he works to gain memory of his origins as Peter Pan, as a means to obtain victory.  Due to Peter's prior abandonment of Tinkerbell and The Lost Boys the latter is easier said than done. Their emotions run bitter and their allegiance resides with a new leader named, Rufio. With their eventual help, Peter breaks through his callousness and re-discovers the magic within him needed to defeat Neverland's unruly pirates.
What made Hook iconic
The writing:
"Looky, looky, I've got Hooky!"
Okay seriously, you can't call yourself a '90s kid if you've never walked around screaming "BANGARANG!" or "Rufioooooo!" I'm pretty sure my girlfriends and I render a lot of people nauseous by somehow connecting Hook to every life situation. Don't let there not be enough food on the plate at a restaurant. You'll get a serious, "Eat what? There's nothing here. Gandhi ate more than this," from us. If one of us wants to be a wet blanket, a nice "So, Peter, you've become a pirate," is due. That's what timeless writing brings–endless nostalgic connection.
Julia Roberts:
It's believed A-list actors should never play well known characters due to fear of it taking away from the cinematic experience. However that rule, holds a few exceptions–and Julia Roberts happens to be one of them. She held the title of America's Sweetheart, and enchanted audiences before Hook without a single dose of pixie dust. The tousled red hair. The wide mega watt smile. The infectious laugh. It only seemed right to hand her a pair of wings. Who else could've made a talking Tinkerbell so feisty, rough edged, yet delicate and lovable?
Dustin Hoffman:
Here's another actor that falls in the category of the exception to the rule. Dustin Hoffman made a magnificent and cantankerous Captain Hook. As a matter of fact, my Dad didn't even realize it was him until 2008 during a random family movie night. It took him 17 years to detect Dustin Hoffman beneath the costume aesthetics and superb acting. That is crazy–and also explanatory of Hoffman's Golden Globe nomination for the role. Good form, indeed.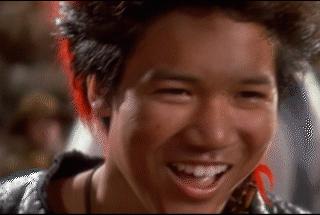 Rufio and The Lost Boys:
Aside from Benny "The Jet" Rodriguez , was there any other '90s film kid cooler than Rufio? I didn't think so. Everyone wanted to be Rufio–boys and girls alike. He was dope, edgy, fearless and confident. He believed in who he was and what he had to offer the lost boys even though he couldn't fly. After Peter returned and proved both his identity and allegiance to the lost boys, the triple mohawked daredevil backed down as leader and fought Hook beside him. Don't get me started on his last scene, it's water works worthy.
The lost boys also injected authentic doses of innocence and comedy into the film. Some of the best lines and emotional actions come from their scenes. And while Steven Spielberg lamented that his young cast was very rowdy and hard to control, their rambunctious spirits translated well–giving the film the good immaturity needed.
Robin Williams:
The man. The myth. The legend. In the fashion of casting great talents, was their anyone else with enough heart to play Peter-frickin'-Pan? Robin Williams' films set the pace for '90s childhoods. It isn't hard to think of all the classics he graced us with during that time. It is however, harder to count the films he wasn't in. He'd faced enough darkness to portray Peter's shortcomings as an adult, and harnessed a huge jovial need to make others laugh and smile like the nature of Pan.
With Robin–without ever meeting him–you felt safe and happy. No matter how much time passed since watching any of his films, once on, the clock ticked back and you forgot about the hurting. He was Neverland in human form.
Where is the cast now?
While the three Hollywood hitters (Hoffman, Roberts and Williams) went on to create back to back acclaimed performances, Dante Basco, the actor who played Rufio, went on to various roles in popular shows like Avatar: The Last Air Bender, CSI: Miami, The Legend of Korra etc. Lucky for all of us, Dante never stopped acting. Even luckier for me, I had the pleasure of meeting him at Disneyland of all places. I turned awkward during the encounter. I'm talking Ricky Bobby awkward–unsure of what the hell to do with my hands. Put me in front of rock stars and athletes and I won't break a sweat. But Rufio? Fuhgettaboutit, just watch me turn into a paramecium–see what I did there?
Even with all my nerves, Dante was awesome and approachable. He even crowed for me and my friends after saying goodbye. Many of our childhood heroes either run away from their image or don't hold up to our expectations, but just like Rufio, Dante is a real one.
You can find the rest of the lost boys in a set of reunion photos and videos coordinated by 22 vision–a group dedicated to bottling up pop culture nostalgia. The Hook cast celebrated the film's 25th anniversary–and as expected, it went viral.
The shots are warming and delightful, and the cast's tribute to Robin Williams pushed a few tears from my eyes. Still, despite those emotions, there's no way you won't feel happy thoughts after seeing the lost boys back together.

What Hook taught us:
Grow old—that's a blessing–just don't grow up.
I've always taken Peter Pan for the dark undertones it contains, as they deliver a valuable message: Getting older is inevitable but loss of love, zest and imagination is not. The world is dreary and damn cruel. It makes us want to cower and shrivel within its shadow, nevertheless, we must fight to maintain our softness and purity. To be good is to be resilient in the pursuit of happiness–whether it be for you or your loved ones.
Should you ever feel the walls closing in on you, thanks to a pile of bills, relationship drama or health struggles, take a moment for yourself, and remember the things that make you happy. Think of all that used to make you happy. Weren't they simple? Weren't they enough to feed your soul? They CAN be again. All it takes is faith, trust and pixie dust.
What are some of your favorite memories of Hook? Let us know in the comments or hit us up on Twitter at @Tatixtia
and @vashtiedotcom.