It's that time of year again — The day that Mean Girls released and embarked on our memories forever. It's been fourteen years since it became a staple in pop culture and film history–and still, in 2017, we're here for it!
For some, the day entails wearing pink or quoting memorable lines from the movie. Others post memes and scenes. But we'd like to put a different spin on the millennial holiday and celebrate what the movie really did for us: outline the characteristics of the any Regina George-esque personas in real life.
Regina, she was the quintessential queen bee of high school, her girl group: "The Plastics," and the brains behind every teenage trend and rumor. There was not one person in the school's population that wasn't somehow affected by her wrath–be it coated in sugar or just pure evil.
When it came to the script, comedienne and Mean Girls writer, Tina Fey, drew inspiration from the book, Queen Bees and Wannabees: Helping Your Daughter Survive Cliques, Gossip, and Other Realities of Adolescence. So it's no surprise we found the film to serve as a blueprint (yes, even beyond adolescence) to do just that.
Not sure if you've been personally victimized by a real life Regina George? Check out our list of five frenemy characteristics below.
Beware of 'center of the universe' attitudes.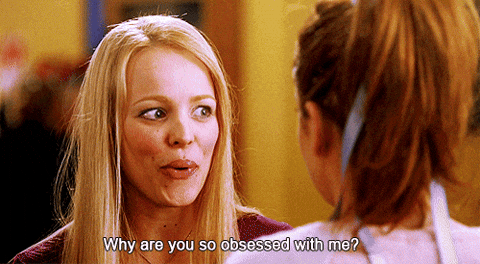 Poor Janis Ian. All she wanted to do was keep her friendship sacred, but with the help of Regina, those attempts went up in flames. Her kindness and concern were not only misinterpreted by Regina, they were also deemed signs of adoration and love. Thus, began the humiliation of Janis Ian and the end of their frenemy relationship.
Anyone that makes every subject, conversation, word, sentence and food about them is most likely a narcissist.
This is a red flag. Run for the hills.
A true friend would never create a one-sided road. It takes two to make any sort of relationship, and it takes effort, time and compassion to listen and be present for one another at the most significant times.
Beware of praise seeking.
"Oh, but Regina, you're so skinny!" Really? The girl was saying she wants to lose three pounds while eating cheese fries at lunch. This is NOT, I repeat, NOT a sign of sincerity. This right here is what we call fishing for compliments. It also somewhat coincides with the characteristic above. Praise seekers often do this because they are either insecure or more interested in hearing about how awesome they are.
While a praise seeking friend is most likely hurting from underlying issues, stay alert. The saying, "You can't love somebody else before you love yourself,"is true every time. And unfortunately, we can't always make the people in our lives love themselves the way they should. It must be done by them and organically. If you have a praise seeking Regina George in your life, do yourself a favor and love your friend with a long spoon.
Beware of silent fighting.
Yikes! This perhaps is the most aggravating trait of a frenemy. How can you have a falling out with someone without addressing it? Granted, in Mean Girls, Cady was wrong for preying on Regina's ex-boyfriend (Gretchen, in her own twisted way was right about it going against girl code). But did things really need to go unsaid? Was it necessary for Regina to start dating Aaron Samuels again as a means of making a statement. At that point, she was hurting multiple people: Aaron, Cady and herself. She wasn't interested in him, and her behavior mimicked that of a possessive toddler.
This is toxic.
Relationships involve true communication. We aren't perfect and we're all bound to fall short with one another here and there. If we truly value the connection with the people in our lives, a simple and honest discussion should be feasible. Anything less isn't worthy.
Beware of authoritarian rules.
Regina ruled these girls with an iron fist. She didn't exactly accept them as they are. They had to wear pink on Wednesdays. They had to consult with one another before buying new clothing. Wearing pony tails once a week was a NO. Even their love interests had to be pre-approved.
This is maddening, and in junior high, I'm afraid to say I had my fair share of it. I felt caged and cloned–not like myself. One of the best things about hanging with your girls is bringing various identities together to make one fierce energy. If you're being skewed to do things someone else's way, bounce! They might as well just kick it with themselves.
Beware of two faced gossip disguised as flat compliments.
Regina did this from the gate. She played good cop/bad cop–talking and setting up people to hang themselves. This trait may work well in the structure of law, but with your friends? Nah. You want an honest friend. Someone who will tell you there's food in your teeth before a picture, or that the corduroy pants you've fallen in love with aren't their favorite, but if you like them, that's all that matters. When it comes down to it, you trust your girls to not let you down. You want them to be true, just like you are with them.
In the end, being a good friend is about being an advocate in someone's life–through trials and triumph. Love the peeps around you enough to not be a silent Regina George, even if this means doing the unthinkable and ruffling a few feathers (i.e. telling them when they're being mistreated, cheated etc.) There may be clouds surrounding your ties for awhile, but overall, your bond of loyalty will grow even more indestructible.
What are some of your favorite Mean Girls lessons and moments to remember on October 3rd?