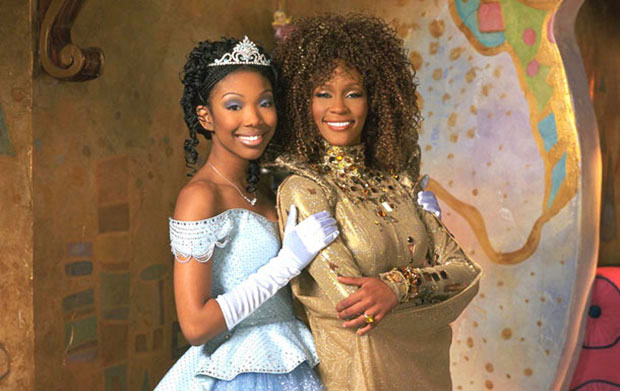 Cinderella is the whimsical classic tale that reminds us how important it is to maintain kindness–no matter what life may throw at us. And yes, the original Brothers Grimm tale saw Cinderella's bird crew pecking out the eyes of the evil stepsisters as she married the Prince. But that is neither here nor there. When Disney came ringing, equipped with pen and ink, to adapt the fairy tale into an animated feature film, all gruesome details were left out–leaving only the morals and magic to the story.
Since then, Cinderella has been re-vamped a number of times. We've seen our girl Ella slip on her glass slipper in theatre productions, films, books, comics and even television. Most notably, Cinderella's grand makeover in Disney's 1997 small screen film.
It debuted as part of ABC's "Wonderful World Of Disney" series, and began as a point of interest after Whitney Houston saw Bette Midler's Gypsy on CBS. Calls were made when Whitney expressed her great wish to create something similar. Then story pitches arrived. Whitney fell in the love with the concept, but after a tangle of film commitments, found herself too 'old' to play Cinderella. She believed the character required a naivete about her. And after having Bobbi Kristina, she was simply in another phase of life.
So, she did what felt natural. She referred R&B sensation, Brandy, to producers. Brandy auditioned but agreed to take the role on the condition that Whitney Houston would be her Fairy Godmother.
The rest, became history.
And as we look back on this cut of film, it's never been more apparent how ahead of its time it was. There were so many standout contributing factors to this, but we've managed to narrow it down to five.
So, allow us to count the ways of why this 1997 version will always be in a league of its own.
1. A Cast Full Of Diversity
"This may be a first. It makes perfect sense because of who we are. Before it was either all-Black or all-White. But, never a normal mix of people. This integrated cast is how the real world is. This is more normal than being of a cast that doesn't have any color in it. This is perfectly fine. This is how I live."–Whoopi Goldberg, Jet
With a roster of talent like Brandy Norwood, Whitney Houston, Whoopi Goldberg, Bernadette Peters, Paolo Montalban, Jason Alexander, and Vincent Garber, lightning was sure to strike a bottle. Every line they delivered was charismatic and believable. Each comical quip was funnier than it was intended to be. Oh, and the absolute beauty of this casting is that it knew no limits. Yes, the step sisters were different races. As were the royals and Cinderella.
So what?
None of that really mattered.
None of it was a question.
The material took precedence over these differences. Characters were simply characters–whether loved or hated. Seeing a Filipino male cast as a hunky Prince opposite of a Black Cinderella was refreshing and a definite statement that love is love.
      2. The Musical Scores
When you have vocal virtuosos like Whitney Houston and Brandy belting tracks, it's almost a given they will become cult classics. Add Rodgers and Hammerstein scores to the mix and it's a done deal. Their work practically summons imagination. Who doesn't sing "In My Own Little Corner" while typing at the computer? I know it's not just me.
Who doesn't act out "Impossible/It's Possible" as they attempt to complete laundry for the third time in a week–only to give up on it again?
I don't think it's possible *Whitney voice*.
See, here I go again. I only named two songs and I'm already lost, imagining.
This soundtrack is magic, people!
3. Cinderella's Aspirations
Cinderella: I doubt he has any idea how to treat a girl.

The Prince: Like a princess, I suppose.

Cinderella: No. Like a person, with kindness and respect.
When we met our dear girl, Ella, she wasn't drooling over the hope to be rescued by a prince. She had plans for her damn self. "In My Own Little Corner" was proof of that.
Fast forward to when she actually met Prince Christopher. She was not impressed at first sight like Disney had told us. When Cinderella fell in love with Prince Christopher, it was because she loved his soul. She also wasn't afraid to make that and a number of other similar things clear to him. With all these things established, Cinderella achieves her true dream of freedom, happiness and a life of adventure with her best friend and true love.
4. The Costumes
They were everything! Bright and rich. Decadent and loud. Regal. Character driven.
Beautiful.
5. The Moral Of The Story: Believe
Fairy Godmother: Cinderella, if you really love him, why don't you let him know?
Cinderella: How can I? Look at me.
Fairy Godmother: Do you really think he fell in love with your fancy gown and your pretty braids?
Cinderella: I don't know anymore, and if you hadn't helped me—
Fairy Godmother: You didn't need my help. You just thought you did. Believe in yourself, Cinderella, and trust him to love you as you really are.
This is a common theme in stories. However, it's common for a reason. If we don't believe in ourselves more than anyone else, we clip our own wings. Believing is doing. By knowing you deserve and can attain your dreams, you make yourself available for the moment opportunity knocks.
In Cinderella's case, she kept an open, kind, and tenacious heart. She never stopped dreaming of a better future for herself. That optimism and action paired her up with Prince Christopher–who wished to find true love outside of royal tradition and arranged marriages.
He believed he could make his own way.
So did she.
And they did.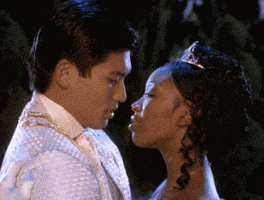 There's nothing more magical fulfilling your dreams.
"My dream is that this Cinderella will touch every child, or the child in every adult. I sincerely hope that it reinforces the art of dreaming–having a vision and understanding that everyone has the power within to make that dream come true."–Debra M. Chase, Executive Producer