As the biggest consumers on the market black women have the hardest time finding products to fit our complexion. We back everything up that we see fit. We set trends and dictate pop culture. We're the biggest influencers so imagine how we feel being secluded to shop in the small corners of grocery stores "Urban Beauty" section. Colorism is a huge issue in society and black women are often forced to purchase little to no products that fit our hair or skin. There are MUA who can't match us and hairstylists that can't style our hair because they aren't taught to. We aren't even worth one day's dedication in a course and yet we contribute the most to the beauty industry.
Unfortunately, the color of our skin still dictates how others treat us. Which is the cause of being brainwashed by America's standardized idea of beauty. White is often looked at as "innocence", "purity", "fairness", while anything associated with "black" is automatically presumed to be negative or have some sort of evilness attained to it. From cartoons all the way to beauty products "fair skinned" is the standard and "dark" is the bottom of the barrel.
How is there a shade for every woman when these don't cover every woman's complexion? 
A lot of young girls growing up struggle with their image in general, now add being black and dark-skinned on top of that. Watching television shows not relating to anyone on the screen because none of the characters look like you. Flipping through pages of magazines where all the girls are skinny and pretty with the same body type and complexion. Or watching your favorite music video or movie where the female lead is nice, cheery and soft whereas her dark-skinned friend is loud, rumbustious, ghetto etc. I.E. Martin, The Proud Family, House Party. One is held more attractive than the other. Judging by their behavior because that's what our worth as women is based on. It's damaging to a child's brain. As they grow older young boys and girls are conformed into believing this myth that darker woman aren't as beautiful as lighter ("fair") skinned woman. It impacts society tremendously, generations after generations are being coerced into believing that certain women can't wear certain colors because it doesn't look good on them or even wear certain shades of lipstick because it "doesn't go" with their skin.
I went through my rough patch in high school when I didn't feel attractive because of my complexion. I had to unlearn everything the media taught me about myself and other women who look like me. I used to shy away from pink and nude shades because I didn't think it meshed well with my complexion, but that was because that's what I was being told. That's what I was reading in articles. That's what I was seeing in product pictures. I can't tell you how many times I've swatched a lipstick shade on my hand that came out looking a completely different color on me than it did on the packaging model which ultimately discourages me from buying the product. With society becoming more technologically advanced girls are being introduced to makeup at younger ages and I think it's important for them to feel included. Makeup is not just for people with lighter skin tones. No one should have to drive to five or six different stores to find the proper shade of makeup.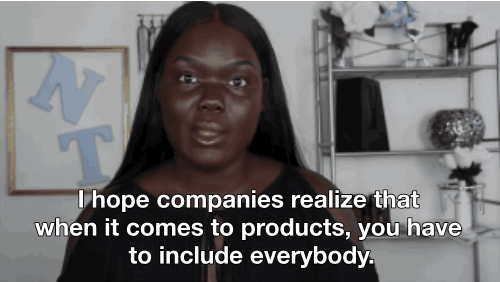 Nyma Tang, (posted above) is a beauty influencer who started her Youtube channel (The Darkest Shade) in hopes of spreading awareness about the lack of depth in makeup shades in the beauty industry. She was a victim of society's standard of beauty because of her skin tone. However, she broke out of that self torment, took a stand and has made a name for herself. Jackie Aina is another brown skinned beauty who advocates for equality in makeup ranges. She, as well as many of us has dedicated her time and money to makeup companies who haven't always supported her complexion. Frustrated with these brands she decided to take matters into her own hands by teaming up with "Too Faced", a cosmetic line that already has a vast range of shades (24). I can't wait to see the darker and deeper shades that are coming out. She states, "I'm so glad that all of the awareness we've created about inclusiveness is finally being heard and I get to curate these new shades from the FORMULA all the way to the shade names that will be available to all of you in the near future!!!" Well Jackie, we're happy too.
Here's one of Jackie's informative videos on which makeup brands aren't as flattering for people of color.
However, there are some companies who do well with coverage and cater to POC. Becca, Bahi, AH Cosmetics are beauty lines that have great makeup for us and them. Bahi has helped with my skin's pigmentation remarkably. Personally, I use Clinique's Acne Solutions foundation because it matches my complexion perfectly. Whether I'm two shades darker in the summer or two shades lighter during the winter. Whatever hue I am, they have it.
Which brands do you use? Have you ever been disappointed in a product relating to skin tone? Share your story below.