With all the havoc 2016 has brought on the world, we know you're just as excited as we are to see it go and start fresh. Whether your NYE plans consisted of an elaborate night out with the crew or an exclusive night in, today can be a time to recover and reflect.
Since proper entertainment for the day is key to a relaxing day in we've grouped a few films to set the mood. From comedy, to romance, to friendship, these are Vashtie.com's New Year cinematic picks.
200 Cigarettes:
Filmed in 1999, this ensemble cast film takes us through the quirks of misfit characters during a New Year's Eve in the year 1981. The setting is New York, and Monica (Martha Plimpton) is throwing a holiday party. Her phobia of no one attending overcomes her and in the process, she becomes neurotic–and hilarious. The remainder of the film follows the journey of those invited to the party. There's Gaby Hoffman and Christina Ricci–both of Now and Then, Kate Hudson, The Affleck brothers–Ben and Casey, Dave Chappelle and Courtney Love and Paul Rudd–who make out by the way. After the heat of their crazy night, they finally arrive to Monica's party, which turns out to be pretty damn epic. Even Elvis Costello shows up. But does Monica remember this? Nope, she wallowed away in her fear and got hammered alone before anyone showed up. Thank goodness for polaroids.
Sex and the City:
Alright, yes, Sex and the City isn't a themed NYE show or film. However, the style, personality, and flavor of the show is always perfect for such an occasion. Call a few of your girls over for a night in with champagne and games and watch Carrie, Charlotte, Samantha and Miranda experience much of what we all experience in daily life. It's a conversation starter that also reminds us that with the bond of true friendship, we can make it through any monstrous year. Yes Big, we're looking at you for standing Carrie up at the alter in the feature film. With the love and support of her girlfriends, Carrie learned an important lesson–forgiveness–which shaped her future for the following year.
Trading Places: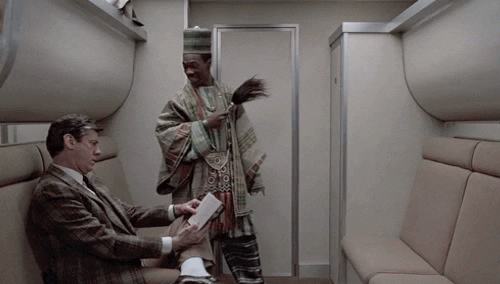 Can you go wrong with early Eddie Murphy? Nah, I don't think so.
A modern day spin of Mark Twain's The Prince and the Pauper, Trading Places tells the story of a high society broker (Dan Ackroyd) and a homeless hustler (Eddie Murphy) who switch places due to a bet brought on by the owners of a commodity brokerage–the Duke brothers. They're curious about nature vs. nurture, and so, they take poor little David Winthrope III (Ackroyd)and frame him for stealing, adultery, and drug trafficking. Winthrope loses it all: his money, status, his fiancee, and his home. The only one who runs to his side is Ophelia (Jamie Lee Curtis), a prostitute who commits to helping him out of his rut in return for a hefty sum once his reputation is exonerated.
Billy Ray Valentine (Murphy) is then placed in Winthrope's old position at the brokerage. He does very well in this position, as he's always had to be quick on his feet. But when he overhears the Duke brothers discussing the bet and their plan to return him to the streets, he sets a plan in motion with Winthrope for revenge.
The rest is pure comedy.
Especially when we find out what "the usual amount" for the Duke brother's bet is.
What are some of your favorite films to watch to celebrate the new year?