Margot Robbie won't be hanging up her mallet any time soon. With the success of Suicide Squad under her belt, it seems she'll be reprising her role as Harley Quinn in a spin-off centered around the blonde bombshell and her femme fatale partners in crime, Catwoman and Poison Ivy.
Together, the trio make up the Gotham City Sirens. Created by Paul Dini and Guillem March for DC Comics, the series ran for a short period of time from 2009-2011. Per the official synopsis for book one of the series:
Catwoman, Poison Ivy, and Harley Quinn—they're beautiful, they're deadly, and for the first time in their lives, all three are trying to fly on the straight and narrow. Tired of playing by other people's rules, regardless of which side of the law they're on, these tough ladies have a new agenda that's all their own, and they'll use any means necessary to pursue it.

Only, sometimes, friends can be more trouble than they're worth. Particularly when they're unaccustomed to things like loyalty… or sanity.

With the Bat away, these sirens will play, and no one— not Hush, the Riddler, or even the Joker—knows what to expect from the bad girls of Gotham City. But life off the lam is no bed of roses. Especially when maniacs are killing innocents and making it look like the Sirens are the culprits, when Ivy's new civilian identity proves murderously difficult to maintain, and when Catwoman's sister comes to town to ride of the demon she believes possesses her… and rid her of her life in the process!
Given the synopsis of the original story arc, shall we dive into where each siren is for this potential timeline?
Harley Quinn:
Compared to director David Ayers' lovesick, brain washed Harley Quinn in Suicide Squad, Gotham City Sirens' version finds her seeking independence. Harley leaves Joker and yearns to become Harleen Quinzel once again.
This is a pivotal point for our pig-tailed anti-hero. It also finds her exploring her relationship with her best friend, Poison Ivy. The two flirt with the boundaries they've built over time as Harley re-evaluates what true love really is.
Catwoman: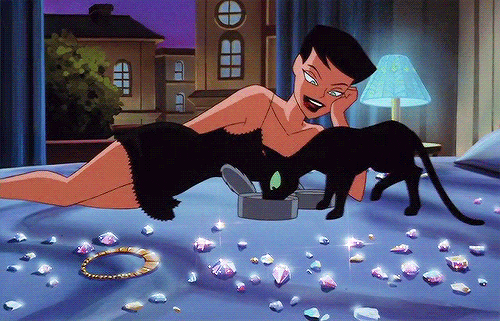 Selina Kyle a.k.a. Catwoman–the notorious cat burglar–is still up to her usual kicks. However, she's pretty down and out in these Gotham City Siren story arcs. Much of her development revolves around being tortured and kidnapped for the reveal of Batman's true identity.
It's up to the girl mob to save her, which also includes features from Zatanna and Talia al Ghul.
Posion Ivy:
Dr. Pamela Isley still lives life as the Earth minded eco-terrorist, Poison Ivy. In addition to her need to save the planet, she's also trying to save Harley from herself, arguing with Harley, and comforting her through the violent flashbacks of all the abuse she endured with "The Clown Prince of Crime".
Still, Ivy doesn't let any of this stress alter her big vision. She changes her name to Paula Irving and takes up a job at S.T.A.R. Labs. She stumbles upon a species of alien plants and assists in breaking the botanical life form from the lab so that it may grow an entire forest over night.
But of course things go awry.  Harley and Catwoman aren't too pleased with the scheme either.
Oh, and…the Joker is never too far away from each story line. Wonder if that means Jared Leto will be showing up for some camera time as well.
Names for potential actresses to fill Poison Ivy's thigh high boots have already been going around. Megan Fox is rumored to be in the running. Mr. Robot's Steph Corneilliussen has also expressed her desire to play her.
No one has been confirmed for the roles of Poison Ivy and Catwoman. At this moment in time, Margot Robbie is the only confirmed cast member. She will also take on the title of executive producer–which has given her the rank to veto the hot pants she donned for most of Suicide Squad.
Despite Suicide Squad's mixed reviews, one thing is clear: Harley Quinn is a household name now. That wasn't the case before. Margot Robbie has managed to take her from one of DC's most underrated to a character in full demand. With her hand in this upcoming film, we expect that demand to solidify.
Are you looking forward to this spin-off?