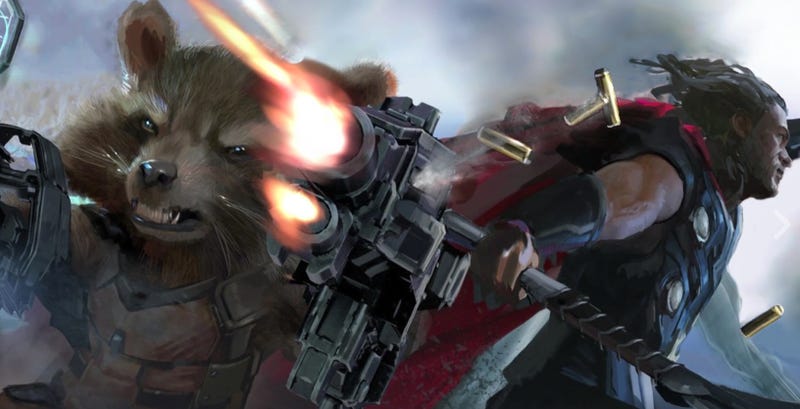 Ten years of story weaving have brought the Marvel Cinematic Universe to what we'll soon regard as the brand's zenith, Avengers: Infinity War. Kevin Feige, Marvel Studios' President, relished the glory of its impending adventure in a special behind the scenes video. There's much to reminisce over–Iron Man's first film debut, and the gradual build up of coinciding stories and characters. However, the grandest easter egg happens to be the news of our favorite Guardians of the Galaxy teaming up with the Avengers. Yes! Starlord, Iron Man and Spider-Man will meet. Rocket Raccoon and Thor, as seen in the amazing concept art of the video, will throw down together in combat. How much do you want to bet Rocket will attempt to steal Mjolnir–Thor's hammer? I might just lose it if that happens. Also, what can be thought of those new Iron Man armor suits? Pretty sick. Thanos is sure in for a tough fight.
We'll find out the details of all things epic when Avengers: Infinity War hits theaters in May 2018.
In the meantime, check out the fresh videos below to see what we're in for, as well as the cameos in Robert Downey Jr.'s live video.