Now more than ever rock and roll t-shirts are being commonly worn by today's youth with bands such as Metallica and Guns N Roses.  As most would think, wearing a t-shirt of any brand would mean you support that brand in all that it stands for. Because this trend is becoming popular, it makes me question if today's youth knows anything about these brands or are they wearing it to support hype society. This may cross the line of appropriating rock and roll culture.  As Crisdacat highlighted here earlier in the summer, it's always best to know what you're representing. "Never wear a tee representing a band you've never heard of, can't name one song by, or the top was just on sale at Forever21." Great advice because you don't want to promote something you're against.
It's common for urban culture to get upset when their style is being used as muses in high fashion industry without any credit or lack of black models in inclusiveness, so do people who eat, sleep and breathe rock and roll have the right to get upset when something of their culture is popularized by urban youth?
Here's a video on H&M's vintage  rock t's compared to the real thing. 
Harrison Nevel also has a bunch of DIY distressed videos and styling outfits geared towards the rock and roll/punk look if you want to check them out on his channel.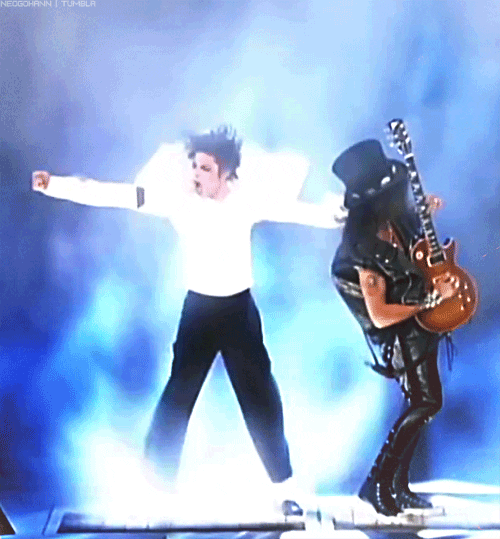 Guns N Roses is a band of members from Indiana. They moved to LA and formed in the mid-80's. I'm sure most of our urban youth doesn't know it's members aside from lead guitarist, Slash. I know him from his collaborations with Michael Jackson over the years.
Yes, you should know what you're wearing, not to brag about knowing a song or two, but to know what you're supporting. You don't want to support a brand who has said something outlandish about people of your kind, or a group who has sang something against the views you believe in.
I made that mistake when I  bought a Guns N Roses t-shirt from H&M one day. I only bought it because it was $5 and I thought I could make a cool distressed/bleached look out of it (I did) and I got a lot of compliments when I wore it during my trips to Miami and Vegas. Knowing nothing about the band, it just looked like a cool shirt to me. However shortly after my trip I decided to look into the work of the band. Surfing through songs that aren't exactly my style I came across one entitled, "One In A Million", instantly reminding me of Aaliyah's tune (because of the title) I listened and was startled when I heard the lyrics,
"Police and niggers
that's right get out of my way
don't need to buy none of your gold chains today
Now don't need no bracelets clamped in front of my back
just need my ticket til then, won't you cut me some slack
Immigrants and faggots they make no sense to me
They come to our country and think they'll do as they please
Like start some mini Iran or spread some fucking disease." 
I can only imagine the type of uproar this song must've received back in the 80's. Especially during the course of the HIV/AIDS epidemic. When questioned about his controversial lyrics, Axl Rose (a white man from Indiana) said the following: "I used words like 'police and niggers' because you're not allowed to use the word "nigger". Why can black people go up to each other and say "nigger," but when a white guy does it all of a sudden it's a big put-down? I don't like boundaries of any kind. I don't like being told what I can and what I can't say. I used the word "nigger" because it's a word to describe somebody that is basically a pain in your life, a problem. The word "nigger" doesn't necessarily mean black. Doesn't John Lennon have a song "Woman Is the Nigger of the World"? There's a rap group, N.W.A., Niggers With Attitude. I mean, they're proud of that word. More power to them." 
In all, no matter the spin anyone tries to put on this, it's offensive and I haven't worn the shirt since.
Know what you're wearing guys. No matter what it is.
You're always representing something.