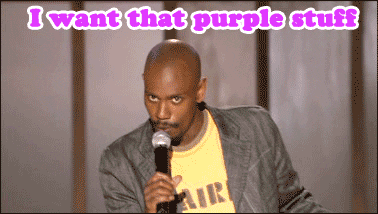 In 2017, DJ Candlestick and OG Ron C released a "chopped not slopped" version of Grammy-award winning bass guitarist Thundercat's third album Drunk. Thundercat liked it so much that his label Brainfeeder released the remixed version, Drank, on limited edition purple vinyl on March 16th. Inspired by the late Houston-based DJ Screw, these two have been putting their spin on artists', like Drake, Beyoncé and Jay Z, albums within 24 hours of the album dropping sometimes. They also remixed the soundtracks of Black Panther and Moonlight. The purple album overlay, which is the color of lean, also called purple drank or sizzurp, was the drink of choice of DJ Screw.
"It messes with me emotionally…because since they've done that, I can't un-hear the record that way. It literally feels like this is the way the record was supposed to sound." – Thundercat on Billboard.com
Thundercat, a.k.a. Stephen Bruner, is part of a legacy of musical geniuses. He's the son of Robert Bruner, Sr., a drummer who toured with The Supremes, Gladys Knight and The Temptations. His older brother is Grammy-award winning drummer Robert Bruner, Jr. and former member of The Stanley Clarke Band. His younger brother is keyboardist Jameel "Kintaro" Bruner and former member of the group The Internet. Thundercat worked on Kendrick Lamar's To Pimp A Butterfly and the soundtrack of a recent episode of FX's Atlanta. He also assembled a supergroup called WOKE with Flying Lotus and Shabazz Palaces after working together on songs for Adult Swim.
Check out the Spotify player below to hear the entire album.
Drank, an album by Thundercat, OG Ron C, DJ Candlestick on Spotify